The truth about this entire college process is that you have to be honest with yourself.
I've grown up in a Chinese-American community for the past seventeen years of my life and although it wasn't anything like the ancient China you see in Disney's Mulan where people died to bring honor to your family, that aspect of the culture still underlies a lot of parents' expectations for their children. I'm lucky enough that my parents are supportive through everything, but I still feel the pressure from my family and close friends to live up to what they expect me to achieve.
When aunties and uncles ask me where I'm applying to college, I often shrug and say "I don't know yet" which is a lie, because I've known my dream school for years. I deflect the question because I'm deathly afraid that if I don't get accepted into my top college, others will think less of me or worse yet, I'll let people down. But my realization in this last week is that this isn't true. Where you end up going after college does NOT define your worth as a person. This is what you're going to have to remind yourself daily throughout the college process and it's what I'm going to have to keep telling myself as well.
I think it's important to be transparent through this college process. By communicating to your friends and family about how you're doing will allow them to better understand your needs, your emotions, and who you are as a person. It's easy to crawl up into a shell when the idea of college just gets too stressful, but opening up to those who are close to you will allow them to share in your struggles and in your triumphs. At the end of this road, you'll be able to look back at how you got through this crazy journey together.
It's also important to be honest with ourselves. Being honest can be hard because sometimes, we don't even know ourselves that well! And other times, we won't like what we see. But the beauty of this college journey is that while we're finding the best college for us, we're also getting to know ourselves better.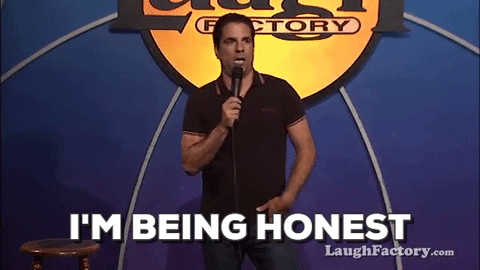 Don't try to be who you think other people want you to be. It's great to get advice on your essays, or what colleges you'll apply to, or even what college you'll attend come May. But ultimately all of these things should be your decision. At the end, you need to be honest with yourself about what you really want. Don't let other people make this decision for you, because next fall,  it'll be you attending college, and not them.
I really value genuineness in my close friends and family, so that's what I want to strive for in myself this school year. I'm going to try to take myself a little less seriously this year and tell people how I'm truly feeling. Hopefully, you can too.
So be honest. Be transparent. Be true to yourself. And I'll think we'll all be a little happier for it.
Hi! I'm Sarah, a current high school senior in Pennsylvania and a ChannelCCR student editor. Feel free to share your thoughts or ask any questions by emailing sarah.guan01@gmail.com. I'd love to hear from you!
Please reload
Our Recent Posts